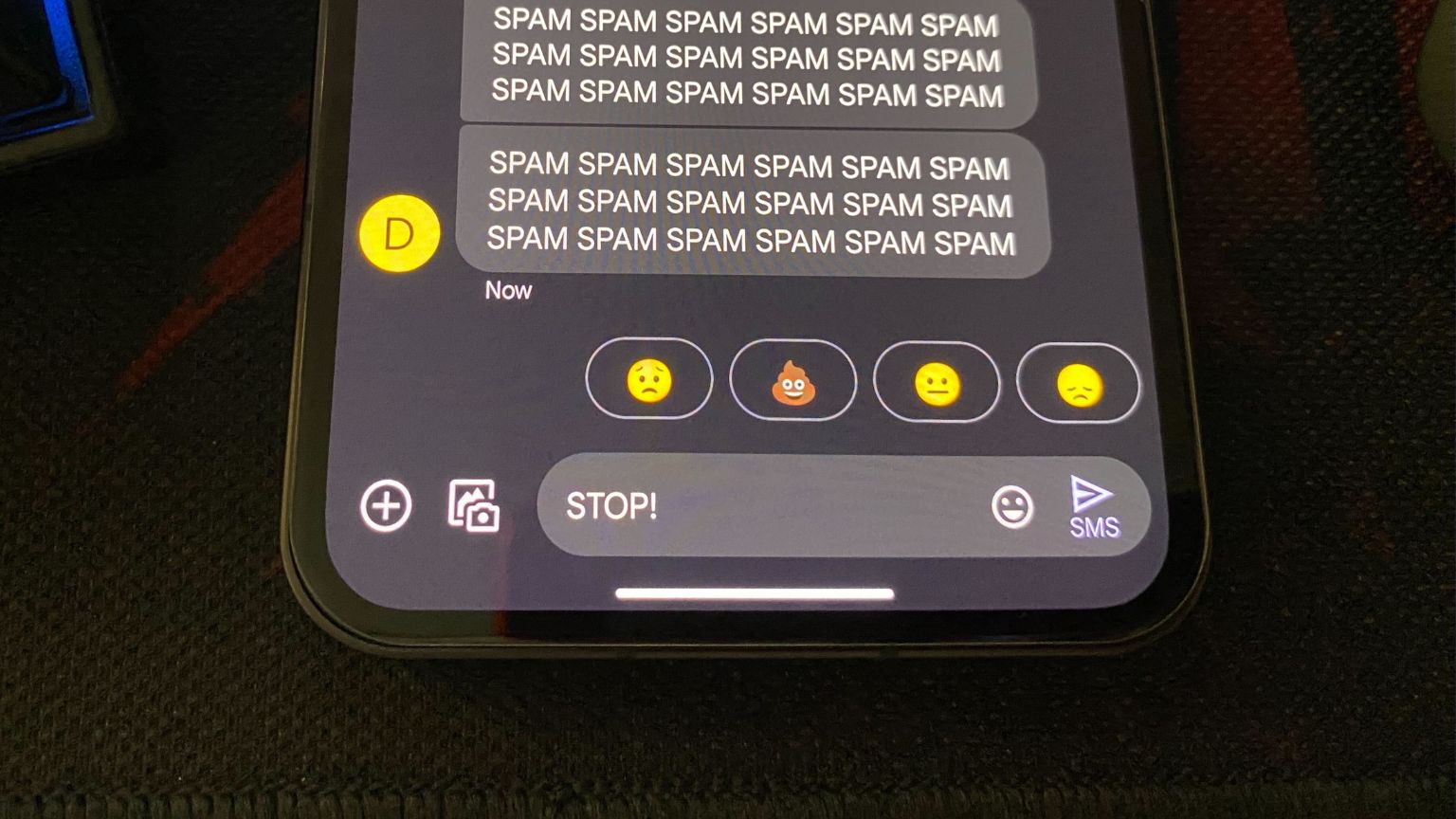 Spam messages are everywhere. These annoying texts from spammers/unknown numbers can fill your inbox with junk messages containing dubious links. Spam texts are inevitable, even if you have a flagship smartphone or a mid-ranger. Deleting unwanted or unsolicited texts to clear the inbox is annoying, but there're ways to block spam messages for good.
No, we're not selling a magical app that will block spam from coming — you can stop spam from the messaging app on your phone itself. Read along to find out.
Note: In this tutorial, we use Google messages that come pre-installed on phones running on stock Android. If yours doesn't have Google messages installed, you'll need to download it first.
How to Stop/Filter Spam Messages on Android
If you witness a suspicious message, avoid replying to it. Responding to a spam test confirms that the number is indeed a genuine mobile number, and spammers can use this information and send more spam texts in the future. Let's look at how you can block those spam messages from dropping on your phone number.
Open the Google messages app and click on the three dots in the top-right corner.

Next, tap on setting and then

Spam protection

.

Click on the

Enable spam Protection

button to turn it on.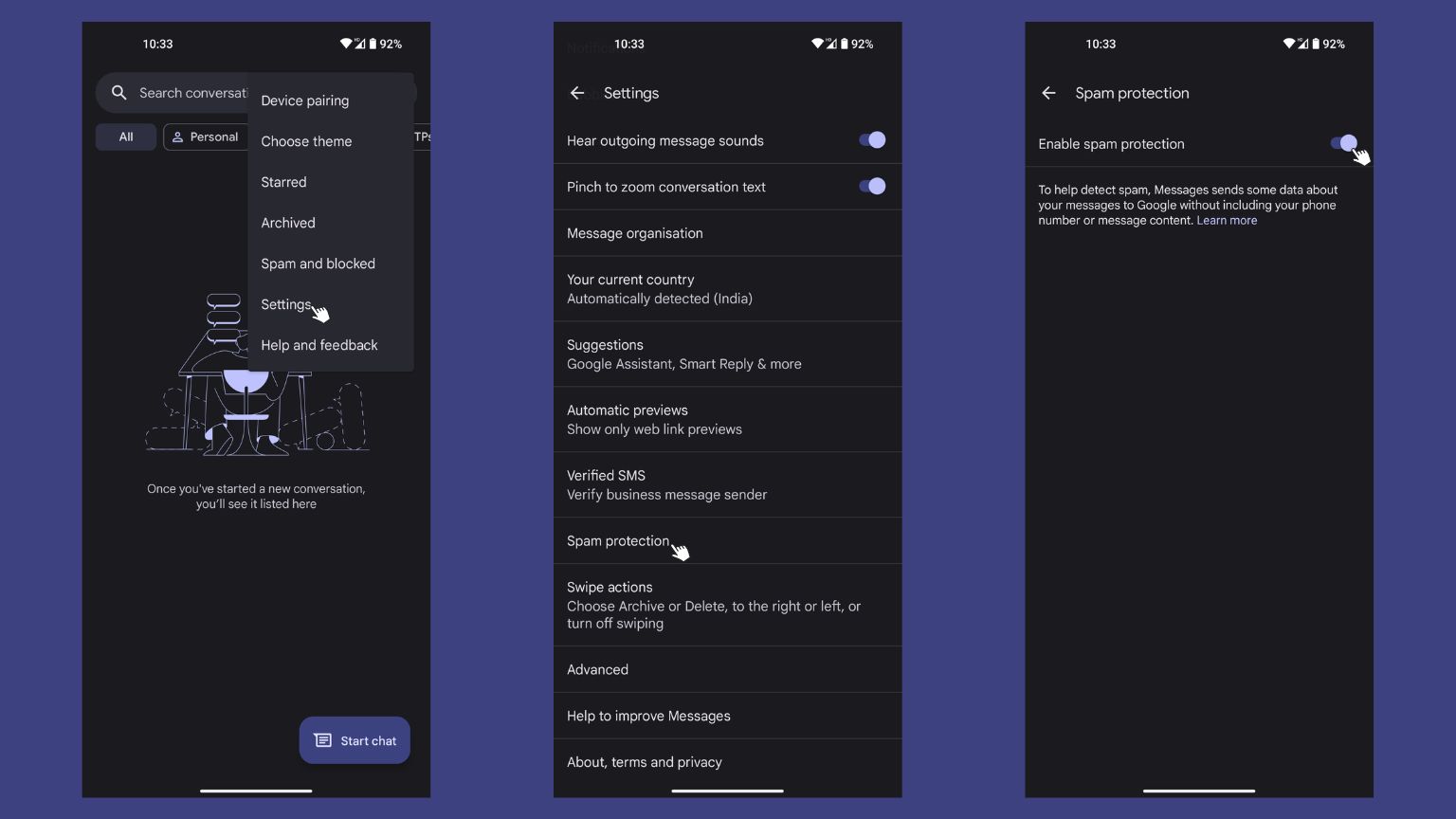 How to Block Spam Texts on Android
Suppose a specific number bothers you with shady texts — you can add that number to the black/block list. This method is also the best way to stop spam texts on phones that are not running on stock Android and does not have Google messages pre-installed. Here's how to block spam texts coming from a particular number.
Open the Google messages app and copy the number you want to block.

Go to the app's home menu and tap on the three dots in the top-right corner.

Click on the

Spam and blocked

button, and then press the three dots button.

Tap on Blocked contacts, and find the

Add a number

option.

Paste the culprit number you copied earlier here and hit the

Block

button.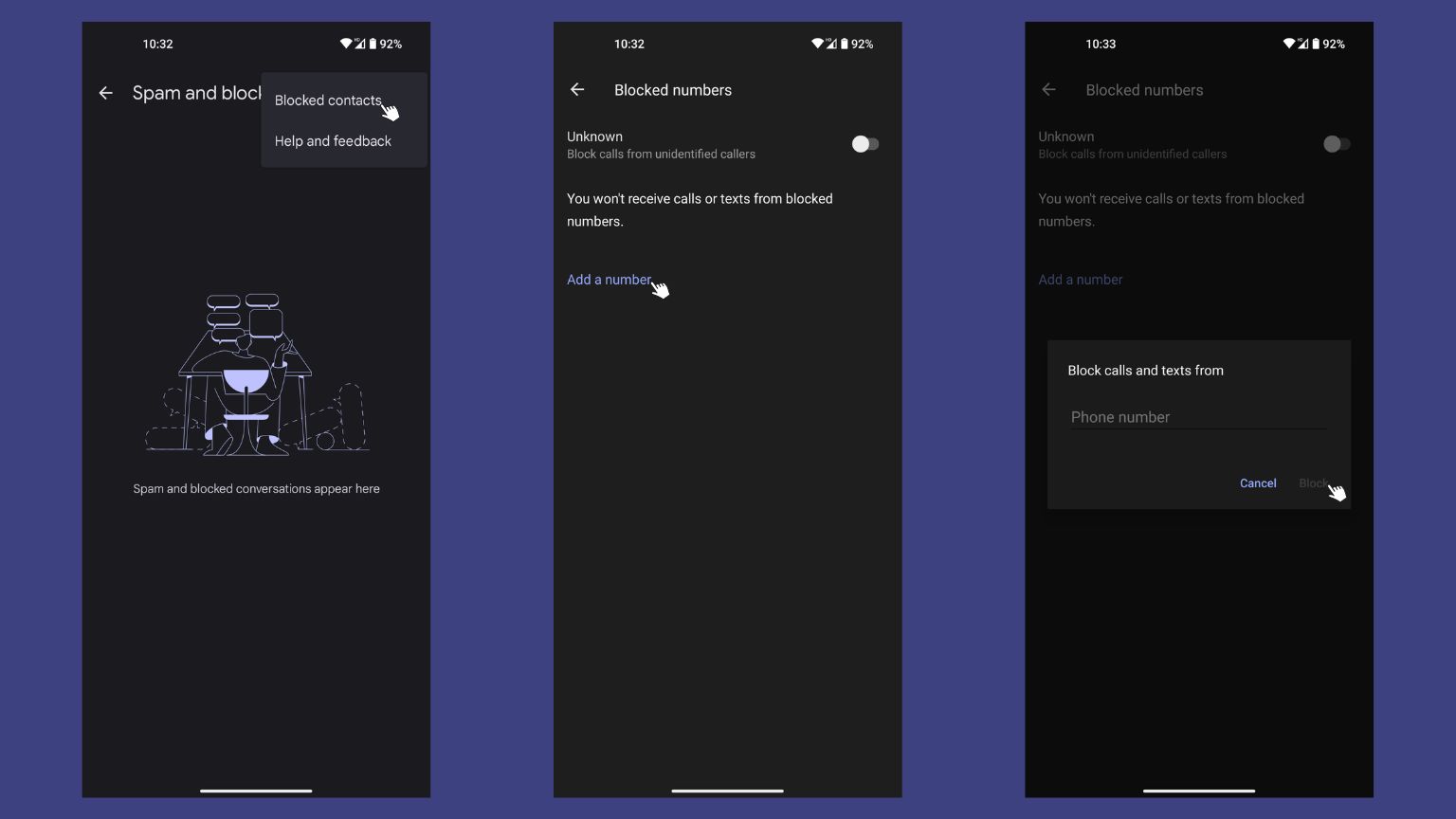 You can also block a number from the home menu by long-pressing the conversation you want to block and tapping on the 'Block' symbol.
How to Report Spam Messages on Android
In most cases, spam texts come with a link in the message. Do not open or copy that link because it can put your phone and your details at risk. You can also report a spammer to stop them from further sending these spam messages to you.
Open the spam message, then tap and hold the text.

Tap on the three dots option in the top-right corner, then click on the

Block

button.

You'll see a

Block and report spam

pop-up, then tap on the

Report as spam

box and hit the

OK

button.
Folks who don't have Google messages installed can report a spammer by forwarding the spam text or copying the number and sending a message to 7762, which spells out SPAM. This works with AT&T, Verizon Wireless, and T-Mobile carriers.
That's it! This may not completely block scam messages from coming, but it'll stop filling up your inbox with spam text.